Can I Remortgage and Extend The Term in Liverpool?
Homeowners in Liverpool will look to remortgage for all different kinds of reasons. One reason, in particular, is an uncommon choice – remortgaging to extend a mortgage term. In this article, we are going to discuss why people do this and how you can go about doing so.

You can find out more about the different types of remortgage across our website and in our remortgage guides.

Why would I remortgage in Liverpool to extend my term?
So, you want to remortgage in Liverpool to extend your term… But why would you want to do that?

A mortgage term is how long you have to pay off your entire mortgage. This length of time will have been specified in your contract when you took out your mortgage with your lender. Usually, mortgage terms last between 25-30 years. This is a long time to be financially liable for something.

As you progress through your term, you may find that keeping up with your mortgage payments is proving difficult and that you are left with a small amount of disposable income per month. Due to the cost of living and an increase in bill payments, you may find it more beneficial to remortgage and extend your mortgage term to save that little bit of extra money.

So, what happens when you extend your mortgage term? Essentially, you are stretching your mortgage payments across a longer period of time, therefore, your payments per month will decrease. However, since you are borrowing for longer, you should expect the total amount that you have put into your mortgage to have increased.

Can I remortgage in Liverpool to extend my term if I'm borrowing more money?
Yes, there is a possibility that you can extend your term and release equity from your home in the process.

Truthfully, you can probably extend your term on any remortgage path you're looking to take. More popular options include remortgaging for home improvements or consolidating debt into the mortgage whilst extending the mortgage term. People usually extend their term whilst remortgaging for these reasons to put them in a stronger financial situation.

As we have mentioned above, remember that as your term is increasing, so the overall amount that you spend on your mortgage will increase. You will also end up paying more interest overall by the time your term has come to an end.

You should think carefully before securing other debts against your home. By adding your unsecured debts to your mortgage, which is secured on your home, you are potentially putting your home at risk if you cannot make the required repayments.

Although the total monthly cost of servicing your debt may have reduced, the total cost of repayment may still have risen as the term of your mortgage is longer than it may have taken to repay the debts originally.

When wouldn't I be able to remortgage in Liverpool and extend my term?
There may be some scenarios where you may not be able to extend your mortgage term. A lender, when deciding whether you are able to do this or not, will look at various factors before accepting your remortgage application.

If you are looking to remortgage in Liverpool to extend your term, your lender will look at your age, type of mortgage and any mortgage debts. At the end of the day, it is up to your lender to decide whether or not to allow you to remortgage to extend your term.

If your lender comes to the conclusion that you are not able to do this, there may be other alternatives that could potentially lower your mortgage repayments. Your Remortgage Advisor in Liverpool will discuss these options with you during your free mortgage appointment.

Can I remortgage in Liverpool to extend the term of my interest-only mortgage?
This scenario can become complicated very quickly, therefore, not all mortgage lenders allow you to do this. If you are allowed to do this with your interest-only mortgage product, you will have to know that you will still owe the lump sum of interest once your term concludes. This total could be larger due to the extended mortgage term on your product.

Additionally, the majority of residential properties will be on some variation of a repayment mortgage, as a residential interest-only is much less frequently occurred in modern times. You will find that it is more common to find an interest-only linked with a buy to let property.

This will bring its own challenges. You will have to compensate for the increased lump sum and you will have to try and convince your lender to extend your term with a tenant still living within the property.

A possible option could be to remortgage and replace your interest-only mortgage with a repayment mortgage. This would allow you to pay back the capital and the interest combined.

Before remortgaging and switching products, we would recommend seeking remortgage advice in Liverpool. Switching to the wrong product could put you at risk of losing large sums of money.

What if I want to reduce my term instead?
If your financial situation has improved since taking out your mortgage, you may consider shortening your mortgage so that you can pay it off quicker. In turn, this will of course increase your monthly payments.

You will also end up paying the bank less back overall due to less interest being built up. Just like when you extend your term, you will need to pass lenders' affordability checks before you will be able to continue with your remortgage.

Alternatives to extending your term
There are other ways to save money each month that does not require you to extend your mortgage term.

One example would be downsizing. Downsizing is where you sell your current home and move into a smaller property instead. As a general rule of thumb, smaller homes cost less due to having a lower mortgage.

Another example, for those over the age of 55 and a property worth at least £70,000, would be to release equity in Liverpool. This could allow you to release funds tax-free from your home, either as a lump sum or in occasional payments, through a lifetime mortgage. This may not necessarily mean that this is the best option for you. If you are over 50, you may also want to look into retirement interest-only mortgages and term interest-only mortgages (also known as RIOs and TIOs).

Similarly to equity release plans, with RIOs and TIOs, your loan will only be repaid when you are dead or have moved into long-term care, with your home being sold at either stage.

One of our mortgage advisors in Liverpool will discuss alternatives with you, advising on the most appropriate path to take, based on what you wish to achieve, as well as your future plans.

To understand the features and risks of equity release and lifetime mortgages, ask for a personalised illustration.

A lifetime mortgage may impact the value of your estate and it could affect your entitlement to current and future means tested benefits. The loan plus accrued interest will repayable upon death or moving into long term care.
What is an Agreement in Principle? | AIP Mortgage Advice in Liverpool
As a mortgage broker in Liverpool, we have come across many different applicants who ask the question "what is an agreement in principle?". We feel like people ask this question as there are a lot of different variations of an agreement in principle.

You will have heard agreement in principle, mortgage in principle and decision in principle. In fact, these are all exactly the same!

But how do they work? What is an agreement in principle? This article covers these questions and why an agreement in principle is essential during the start of your mortgage journey.

What is Agreement in Principle?
A mortgage agreement in principle or AIP is a formal agreement between the buyer and the lender stating that the buyer is able to borrow from them. This agreement is reliant on evidential documents that can back up income and affordability.

Having an agreement in principle in place also shows that you have passed a lender's credit check. Whether they perform a hard or soft credit search is down to the lender.

Why do I need an Agreement in Principle?
An agreement in principle is needed to be able to make an offer on a property. At the point of making an offer, the estate agent will likely ask you whether or not you have one in place.

Sometimes, an agreement in principle can help you negotiate the asking price. If you are a first time buyer in Liverpool, it could be really useful to try and get the price lowered by a small amount.

If you have an agreement in principle in place, the seller will know that you are serious about your purchase and you have the funds to proceed.

Will obtaining an Agreement in Principle affect my credit score?
Some agreements in principle can affect your credit score. This is down to the credit search that lenders carry out.

Lenders will usually opt for soft credit searches, which will mean that your credit is unaffected. However, if they choose to perform a hard credit search, if something bad appears on your file, it could adversely affect your credit score.

If nothing appears on your file, an occasional hard credit check on your file should not harm your credit. When several hard checks are made, things can start to negatively affect you.

Is an Agreement in Principle a guarantee that I will get the mortgage?
No one will ever be guaranteed a mortgage, however, agreement in principle may be able to increase your chances of getting accepted now.

With your agreement in principle, you will need to supply documents that evidence your income and affordability. Lenders will need to see your ID, bank statements, P60, payslips and proof of deposit before accepting your application.

If you are self employed in Liverpool, you may need to supply slightly more things.

Can I make an offer without an Agreement in Principle?
Yes, you can, however, it may take slightly longer to get approved as you have no written agreement between yourself and the lender.

How long does it take to get an Agreement in Principle?
An agreement in principle can take as little as 24 hours to come through. As a mortgage broker in Liverpool, we are able to get this to you within 24 hours of your free mortgage appointment. It's that easy!

How long does an Agreement in Principle last?
Typically, your AIP will last between 30-90 days and if it expires before you proceed with a property purchase, don't panic, it can easily be renewed! Just get in touch with one of our mortgage advisors in Liverpool.

We recommend obtaining an agreement in principle as early in the process as possible. This way, you can avoid the disappointment of being let down or declined for a mortgage.

Speak to one of our team members to get your process started and receive a free mortgage appointment online.
Getting Prepared For A Mortgage In Liverpool
First-Time Buyer in Liverpool Specialist Guide
Once you have gotten your home buying journey underway and saved up a suitable deposit, it's time for the next step; Getting prepared for your mortgage!

Below we have compiled a comprehensive list of some helpful advice that first time buyers in Liverpool may find useful, in order to help you ensure that you are 'mortgage ready'.
Up-to-Date Credit Report
Prior to getting in touch with a mortgage broker in Liverpool, before anything else, you should always make sure you get an up-to-date credit report.

We would recommend that you pay off any payments that you have left outstanding, even if you're withholding those payments due to a conflict of principles.

You'll be in a much better place for obtaining a mortgage, due to the fact that you'll have a lot less going against you financially. This will be appealing to a mortgage lender.

We would also definitely suggest making sure that you are on the voters roll. Though it may not seem like much, it seems to have a largely positive effect on your credit score. You should also close down old, unused credit cards, as this seems to help as well.

Your mortgage advisor in Liverpool will be able to go through your credit report early on in your mortgage journey. You'll receive expert mortgage advice on how they feel would be the best ways to further improve your credit score.
Proof of Identification
Early on in your home buying process, you'll be asked to provide us with some ID that has a photo on it. Usually we see that our customers will give us their driving license or passport.

Your driving license can also be used as a means of proving your address, though you are only allowed to use this for either your photo ID or your address, not for both.

This means that if you are looking to use it for photo ID, you'll need another document to detail proof of address. Any non-UK nationals now residing in the UK will also need to show us a copy of their Visa.
Proof of Address
You'll also need some documents to prove to the lender where you live. We normally find that customers send in utility bills or original bank statements that are dated within the last 3 months.

Alternatively, as touched upon previously, if you are opting to use a passport for photo ID, you will be able to use your driving license as proof of address.
Last 3 Months' Bank Statements
Your bank statements should be able to display a list of your income and regular expenditures. We would highly suggest customers refrain from any gambling on the build up to this, as the lenders can hold this against you during your mortgage application.

Also make sure that you don't go past any overdraft limits and let any direct debits you have bounce. It's very important that you prepare yourself in plenty of time.

You will find that most mortgage lenders will ask to see your bank statements, as they like to be absolutely certain that you are completely able to keep up your monthly mortgage repayments.

The bank statements that will needed are usually the ones that will be documenting bills going in and out of your bank account.
Evidence of Deposit
As a first time buyer in Liverpool, you will have to be able to prove to the mortgage lender that you definitely have the means to afford an initial deposit, maintain your payments and be able to evidence that you can do this for anti-money laundering purposes.

Audit trails can be a little difficult to prove, especially if the money has been moved between accounts quite a bit. With this in mind we would highly recommend that this is kept to an absolute minimum.

Lenders would much rather prefer to see you building up your savings over time, so if you have any large amounts going in, make sure you are able to account for those with receipts to evidence the trail.

Nowadays, we find that a lot of times our customers deposits are actually gifted by family members and are the most popular choice for first time buyers in Liverpool to take that primary step onto the property ladder and into the mortgage world.

Gifted deposits will always need to be evidenced , with the "donor" (person who gifted you the deposit) being required to sign a letter confirming it's not a loan that they are expecting you to pay back.
Proof of Income
The thing you should always put a focus on when it comes to mortgage affordability is being able to prove to the lender where your income comes from.

If you're a regularly employed applicant then this will generally come from your last 3 months of payslips, with a portion of mortgage lenders out there needing to see your most recent P60.

Lenders may also bear in mind any regular overtime, shift allowance, bonuses and commission that you have. If you have more than one employer (perhaps you are working a part-time job or are self employed with contracts in place), lenders will sometimes accept earnings from those as well.

We find that a large amount applicants who are self employed tend to call up seeking mortgage advice in Liverpool. If you are self employed in Liverpool and looking to apply for a mortgage, you will need help from your accountant to request your last 2-3 years' proof of earnings from the revenue.

Our trusted and experienced mortgage advisors in Liverpool are able to have a discussion with you, instructing on how to navigate the online government gateway portal if required to do so.
Budget Planner
It's always within your best interests to do your homework ahead of time and write down an estimate of what you think your outgoings could possibly be once you have moved out of your current home and are living in your new home.

This will help you work out costs such as council tax and utility bills, as well as anything you regularly spend your money on, such as your food and drinks shop.

It will also help to give you a generalised estimate of how much disposable income you'll have available in order to pay your monthly mortgage payments. Prior to our initial appointment, we'll send you a copy of our budget planner, which hopefully will be able to help you out with your preparations.
Getting Prepared For a Mortgage
As you can see from all of the points we have mentioned in this article, getting prepared for a mortgage can be quite complicated, although with the help of a dedicated mortgage advice team in Liverpool, you'll still be readily prepared to move forward with your mortgage journey.

Putting in the effort from the start, staying patient and being careful will hopefully increase the likelihood of you walking out of the mortgage process with your dream property to show for it.
Get Mortgage Ready in Liverpool
When is The Right Time to Remortgage in Liverpool?
Remortgage advisor in Liverpool
If you're heading towards the culmination of your mortgage term and have opted to remain within your current property, as opposed to moving, then you should definitely start looking at your options for a potential remortgage in Liverpool.

For those who are unsure of what remortgages are, this is where you switch to a better rate on your existing deal. As an experienced mortgage advisor in Liverpool, this is something we have worked with a lot and are usually able to help with.
If I can already afford my current mortgage, why should I remortgage?
The high street bank or mortgage lenders tend to rely on their customers sticking with what they're comfortable with and not looking at their options elsewhere. It's not unheard of for there to be cheaper offers available to you elsewhere, all you have to do is check out a price comparison website or contact a mortgage broker in Liverpool to compare the various deals for you.

If you've had your mortgage for a number of years, it's possible that you could be on a low Bank of England tracker deal. You may even be paying an amount that is less than 1%. If this sounds like your mortgage situation, you might be thinking about leaving that mortgage as it is for now. Bear in mind though, that if the Bank of England base rate rises, your mortgage amount will too.
Can I borrow more money for home improvements?
Subject to the typical affordability checks and assuming that there is existing equity within your property, then the possibility of increasing your mortgage for any plans for home improvements that you have, may be an option available to you.

This can be a very intelligent investment if you are good with your money. We regularly see that customers do this to do something like covering the costs of building an extension or converting their loft into an additional room.
Can I borrow more money to fund other means?
You can borrow extra funds for most legal purposes, examples of this would be:
Debt consolidation.
Consumer purchases.
Gift to relative.
Property investment (e.g. into a Buy to Let).
Remember by increasing your mortgage you will end up paying back more interest, so you need to be certain you are doing this for the right reasons.
Is adding unsecured debt to my credit a bad thing?
It is not recommended that you start adding debt onto your mortgage, as over time you will end up paying back more interest overall, though by extending the length of your term, you will be paying less back per month.

You will also taking that debt and securing it against an asset, your home. Because of your secured loan, you would be at risk of repossession if you fail to meet your monthly repayments.

If you have any debt that you can afford to pay off or have credit cards that are at 0% interest, it is absolutely not recommended that you remortgage for debt consolidation.

That being said, if you need to reduce your monthly outgoings to avoid missing payments, (which could damage your credit rating), then it might be a something at least worth looking into.
Will I be offered a remortgage by my current provider?
We often find that generally your current lender will offer you a new deal to remain with them, calling this a "product transfer" or "retention" product. This isn't always guaranteed and sometimes you have to get in touch with your lender directly, in order to see if this is available to you.

Some lenders allow you to make a product switch online without taking any of their mortgage advice or being required to submit any further information to them.

Whilst it may seem to be a much easier option in staying with the same provider and switching products, rather than put forward a new application to a lender that is different to the one you are with, it's entirely possible that you could save a lot of money in doing so.
Mortgage advice in Liverpool
A Guide to Remortgages in Liverpool: Top Reasons to Consider
In the long run, you will likely find your mortgage journey to be a fruitful and rewarding endeavour. Whilst during this process there will inevitably be some positives and negatives, ultimately the final result will see you end up with one of the following; You'll possibly be living in your dream home, with the potential to start a family.

Alternatively, you could find yourself with stepping stone property, getting your foot on the property ladder. Finally, you might end up with an investment property to provide you with an income boost as a new or continuing landlord.

Regardless of which of those mortgage paths you went down, you'll eventually reach the end of your mortgage term and need to start looking at a new plan of action for the future. In some cases, people choose to simply sell their home, scouting the market for either a bigger or smaller next home.

If you are a landlord in Liverpool, you could possibly be in the market for selling your portfolio to the tenant(s) or another buyer, with your eye on financial adventures outside of the housing market. Despite these however, we often hear that the most popular option towards the end of a mortgage term is a Remortgage.
What is a remortgage?
A Remortgage is the process of using the money gathered from taking out a new mortgage to pay off an existing mortgage. There are lots of different options that could be at your disposal when taking out a Remortgage, each of these ranging from small ones to slightly bigger ones.

By collaborating with Liverpoolmoneyman's resident "Moneyman" Malcolm Davidson (host of our YouTube channel MoneymanTV) and utilising his over 20 years of experience in the mortgage industry, we put together a helpful guide for those looking at what to do next, when their mortgage term is about to finish.
Remortgage for Better Interest Rates
At the start of your process, you'll likely be taking out a mortgage deal that will normally last somewhere within the realm of 2-5 years, featuring lower fixed rates or with rates that are possibly discounted. Depending on the circumstances, your lender may even look at putting you on something like a tracker mortgage, wherein your mortgage would follow the Bank of England's base rate.

Once your mortgage term is at its end, it is likely that you will be placed on the lenders Standard Variable Rate (you may see this just called an SVR). The purpose of which an SVR serves, is that the mortgages interest rates can either increase or decrease, a process entirely dependent on what the lender wishes to charge you.

Standard Variable Rates do not follow the Bank of England's base rate like tracker mortgages would. Because of this, they're seen as a little more risky, due to the fact that the lender is not legally obligated to charge the amount that might typically be recommended for a mortgage.

Generally speaking, SVR's are more expensive mortgage routes to take, leaving many with a preference of Remortgaging for better rates. By Remortgaging for better rates, this would hopefully save the homeowner a little bit of money on their monthly mortgage repayments.
Remortgage for Home Improvements
The majority of your term may be firmly behind you, but you still may feel like something isn't quite right, like a change needs to be made for it to truly be called home. It could be that you need to create the space for an extra room or would like a larger living space for your kids or belongings.

We've also heard of cases, when speaking to Remortgage customers, of people doing this for a new kitchen, a new office, or even a loft conversion (a popular these days). Rather than just moving into a newer, bigger house, many instead look at their options of releasing the equity in their home with a Remortgage.

This type of venture is used to cover the costs of any potential improvements, alterations or modifications made to the property in question.

Whilst obtaining planning permission from a local authority sounds like quite a large and scary task, especially when tied to both funding and managing your own project, many homeowners would argue it's a lot less stressful and more rewarding than house hunting, selling your home and moving out.

As time goes on, this may prove even more to be a smart investment choice, as creating more space and having good quality craftsmanship can possibly increase the value of your home down the line, which comes in handy if you ever decide to sell up or rent your home out to a potential buyer.
Remortgage for Changes to Your Term
In some cases, some homeowners may prefer simply to Remortgage in Liverpool with a goal of finding themselves a better mortgage term. This could be by reducing the length of the term in question or even by switching to a product that is a lot more flexible.

Doing this will mean you will shorten the length of time that you will be paying back your mortgage over, so you won't be tied down for a large amount of years. Something of note to remember though, is that this route will also mean that your monthly repayments will be higher than you've might've expected. The general rule of thumb is that the longer your term, the lower your monthly mortgage repayments will be over the duration.

Many choose for their mortgage term to be a little more flexible when they look to take out a remortgage. This is because of the benefits provided by this mortgage option, which tend to sway homeowners more towards that route. Through taking out a more flexible mortgage, you may gain the ability to overpay your mortgage.

Overpaying gives you the ability to pay your mortgage off quicker, as well as being able to carry the same mortgage and rates over to another property of your choosing, for in the event you want to find a new property at any point down the line.

Though a flexible mortgage might sound like a more than ideal option, they will usually come in the form of a tracker mortgage. As mentioned previously, these types of mortgages will follow the Bank of England base rate, meaning that your monthly mortgage repayments could fluctuate based on interest. This can make them a little unreliable when it comes to managing finances.
Remortgage to Release Equity
Every homeowner will have an amount of equity in their property. The amount that is there entirely depends on certain factors. You can work out the amount by calculating the difference between the remaining mortgage balance and the current amount your property is valued at.

As touched upon earlier in this article, the equity in your home can be used for home improvements, though that's not all you're limited to when it comes to what you can use your equity for.

Some use their released equity to cover long-term care costs, to provide an additional boost to their income, to have themselves a nice holiday, to pay off an interest-only mortgage or to give themselves extra money to spend freely on whatever they wish.

Sometimes we find that Buy-to-Let landlords will use a remortgage to release equity as a means of covering their deposit for additional purchases towards their property portfolio.

Equity Release in Liverpool is something that homeowners who are over the age of 55, with a home that is worth at least £70,000, may be able to use. Take a look at your options by getting in touch with an expert later life mortgage advisor who can help you better understand equity release.
Remortgage to Consolidate Debt
Another option that is widely popular and works in tandem with Equity Release, is the process of releasing funds to pay off any unsecured debts that you may have built up over time.

Though it can seem straightforward, Debt Consolidation not only bases the amount on how much you're owed and the value of the property, but it also factors in the current position of your credit rating.

What this means is that whilst you may be able to use some money to cover these costs, you're limited from the offset in terms of the amount that they'll even let you borrow.

On top of this, to pay off your previous mortgage and your debts, you will need to borrow more than the mortgage amount that you have left on your balance. Because of this, you are almost guaranteed that your monthly repayments will be higher than they were before.

Though not an ideal situation to find yourself in, you at least have the comfort of knowing that should you find yourself in need of a back-up plan, you do have some mortgage options to choose from.

If you happen to have a damaged credit rating, you may still be able to obtain a mortgage, though it is not an easy process and does require Specialist Remortgage Advice in Liverpool before you can even go forward with it.

Even with a professional by your side, you must remember that there are still no guarantees that you will walk away at the end of this with a mortgage.

We recommend that you always seek mortgage advice prior to consolidating and securing any debts against your home.
Experienced Mortgage Advisors in Liverpool – Get in Touch
If you are nearing the end of your term and are looking at your home owning and remortgage options may be, please do Get in Touch with a trusted mortgage broker in Liverpool today and we'll see what we can do to help you out.

Your dedicated mortgage advisor in Liverpool will discuss your circumstances and plans for the future, in order to determine the course of action to take on the next leg of your mortgage journey. It is our goal as a mortgage broker to ensure your mortgage process is quicker and easier than when you took out your mortgage the first time around.
Why Don't People Overpay their Mortgages in Liverpool?
Unveiled statistics for mortgages and overpayments
Every homeowner, whether a First Time Buyer in Liverpool, Home Mover in Liverpool or going for a Remortgage in Liverpool, should know that overpaying your mortgage can make a significant difference in what you have to pay each month. The earlier you start overpaying, the quicker you can take advantage of it's benefits.

Homeowners may not always be able to afford such an option. Sometimes life gets in the way. In hindsight overpaying is a great thing to start doing, however, we always find something 'better' to spend our money on.
Overpaying your mortgage?
A lot of the time it might just be as simple as remembering to overpay your mortgage. After all, it's not something that immediately comes to mind when buying a home.

So, if you're in this situation and are looking to overpay, what should you do? We'd recommend setting up a standing order that is payable to your lender each month. Have it go out alongside all your other payments, so it's easier to manage.

For example, say your monthly mortgage payment is £450 per month and goes out on the 2nd of each month. You are able to afford an extra £85 per month and are keen to put that towards your mortgage payments. Set up a standing order of £85 to go out to your lender on the 2nd of each month too.

A great benefit here, is your mortgage payments will then total at £535 and because it's going out as a regular payment, this will become a part of your monthly routine.

Another perk is that whereas a direct debit is controlled by the receiver, standing orders are controlled by the payer. Struggling for funds this month and can't afford to overpay? Just cancel the direct debit.

Whilst it would be a shame to have to stop overpaying, you at least have the benefits you've gained so far. Depending on the lender, you may even be allowed to arrange reduced payments or take a "payment holiday" if you've been overpaying over a long period of time. It's important to check with lenders though if you're looking to do this, otherwise it could have an adverse affect on your credit report.

Overpaying is a great habit to have but it's not something you have to do. If you don't feel the need to, you don't have to. That being said, knocking off a year or two from your mortgage term will be something definitely worth the effort.
Mortgage Advice on Overpaying Your Mortgage
What is a 95% Mortgage?
As the name would suggest, a 95% mortgage is where you are borrowing against 95% of the property price, paying the remaining 5% with your deposit. An example of this would be if you wanted to buy a property that was worth £150,000 with a 95% mortgage, your minimum deposit would be £7,500 and you would borrow the remaining £142,500 from the lender.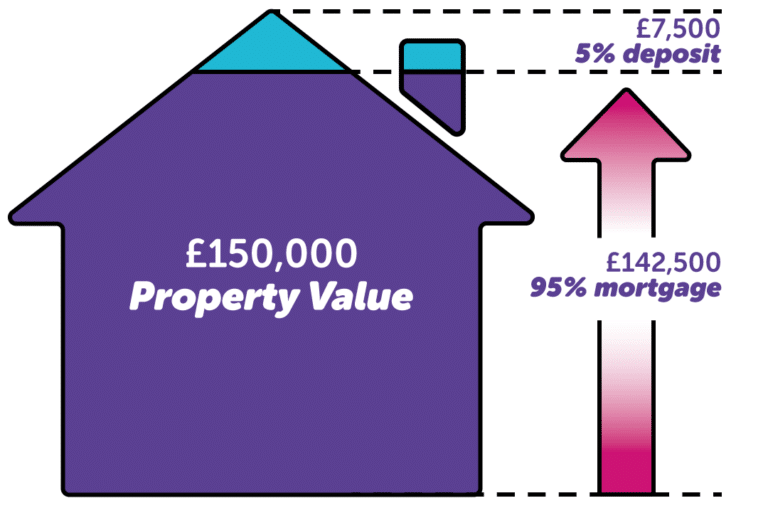 95% Mortgage Advice in Liverpool
Following on from the March 2021 Budget, Prime Minister Boris Johnson announced a Mortgage Guarantee Scheme for mortgage lenders, something that would aim to make 95% mortgages more readily available from the high street banks.

This is very welcome news for First-Time Buyers and Home Movers, as this scheme will remain active until December 2022. Specific terms and conditions will apply, something your Mortgage Advisor in Liverpool will be able to look at with you, to see if you qualify.

All our customers who Get in Touch with us for Mortgage Advice in Liverpool, will receive a free, no-obligation mortgage consultation. Here, one of our dedicated mortgage advisors will be able to make a recommendation on the most appropriate route for you to take.
Can I get a 95% mortgage?
You will find that 95% mortgages are usually accessible by both First-Time Buyers in Liverpool & those who are Moving Home in Liverpool. The concept of saving for a 5% deposit sounds like a pretty straightforward plan of action, but you'll still need to have an acceptable credit score and prove to the lender that you are able to afford your monthly mortgage repayments, before you are considered for a 95% mortgage.
Improving your credit score
You'll need to demonstrate you have a good credit score before you'll be accepted for any mortgage, especially a 95% mortgage. Handy tips for improving this will include paying any current credit commitments on time, ensuring your addresses are updated and checking that you're on the voters roll. For a more detailed look at how and why you can help your credit score, please see our How to Improve Your Credit Score article.
Affordability
Affordability is something else you should also consider. Providing the lender with enough details of your income and monthly outgoings (things like your bank statements will be necessary for this) and any pre-existing credit commitments will allow them to get a general overview of whether or not you are able to afford a 95% mortgage.
Can my family help me get a 95% mortgage?
It's a common occurrence these days to see lots of family members helping one another get onto the property ladder, especially with parents looking to further their children's lives. This normally happens by a family member gifting the person looking to find their home, the deposit required to proceed. Known through the industry as the "Bank of Mum & Dad, Gifted Deposits should only be a gift, and not a loan to be paid back. The lender will need this to be agreed and proven, before it can be used towards your mortgage.
How do I choose the right 95% mortgage?
You always want to make sure you have the right type of mortgage, especially with something like a 95% mortgage. Each type works in its own way, with that choice allowing you to find one that is most appropriate for your personal and financial circumstances.

Some homeowners and buyers would rather go with a Fixed Rate or Tracker Mortgage, mortgage types which mean you either keep interest rates at a set amount or have your interest rates following the Bank of England base rates.

Alternatively, you might be more comfortable with the way Interest-Only or a Repayment Mortgages work. Interest-Only allows cheaper payments until you need to pay a lump sum once it reaches its end (mostly now used for Buy-to-Lets), whereas a Repayment mortgage (a normal mortgage if you'd like) means you'll be paying a combination of both interest and capital per month.

You can read more about each of these mortgage types in our Different Types of Mortgages article, with informative videos for each type.
How can a bigger deposit help with my mortgage?
A mortgage is a hugely important financial outgoing, and as such you need to be prepared. If you aren't prepared, you might find yourself more likely to be affected by things like higher interest rates, remortgaging difficulties due to less equity and then negative equity.

This is not something to worry about though, as these problems can be avoided if you're smart enough with your process initially. The more deposit you put down, the less risk you'll be to the lender.

A larger deposit would not only reduce the interest rates by a noticeable amount, but would also give the property more equity and reduce the risk of negative equity, which will be because you are borrowing less against the property.

So, whilst the risks may seem rather scary at first, planning ahead and saving for a larger deposit to access something like a 90% or even an 85% mortgage will be very beneficial in your mortgage journey and something you'll be able to reap the rewards from in the future.
Budget 2021 Mortgage Market Overview
On the 3rd March 2021, we saw Chancellor Rishi Sunak present the Budget. Here we found out lots of great news regarding the property market. We also found out how Rishi Sunak plans to revitalise the mortgage market and the economy. Many people across the nation are beyond happy to hear the news announced. It seems like the end is in sight for the era of the pandemic.
95% mortgages are coming back!
In October 2020, 90% mortgages were finally reintroduced back into the market. Back then, it felt like we wouldn't see 95% LTV mortgages for a while.

After the announcements made during Rishi Sunak's 2021 Budget, we were very pleased to find out that 95% are finally making a comeback to the world of mortgages. Before you get excited about this though, you must remember that the name of the scheme is rather misleading to hopeful homebuyers and home movers. Whilst this is indeed good news, not everyone that applies for a house under the scheme is going to be guaranteed a mortgage.

Lenders will continue to assess your credit score as they have been, making sure that you are financially capable of affording a mortgage alongside all of the other financial commitments that you have. A mortgage lender will always try to avoid repossession, unless they genuinely have no choice. Another positive to take from the Budget though is if that happens, then the new government scheme would cover any potential shortfall.

For some time now, homeowners and lenders alike have been concerned about the potential for current home values to dip a little. This measure that has been introduced should help ease these concerns. The chances of negative equity occurring will naturally see a reduction, should we see property prices on the up again.

The Chancellor announced that both First-Time Buyers in Liverpool and Home Movers in Liverpool will have full access to and be able to utilise the 95% Mortgages scheme. This is not just a scheme for New Builds and can be used by anyone.

The new government 95% Mortgage scheme will be available from April 2021 and continue to run until December 2022. According to Chancellor Rishi Sunak, many credible and well-known lenders have already shown their support for the 95% Mortgage scheme.

As a well-known and experienced Mortgage Broker in Liverpool with many years of experience in the industry, we are glad to hear this news and are excited to see which direction the market heads in next.
Stamp duty holiday extension
We didn't just hear about 95% mortgages making their way back into the market, as it was announced that the Stamp duty holiday has been extended until 31st June 2021.

Back in 2020 when the Stamp Duty Holiday was first presented to the nation, a lot of us didn't think much to COVID and thought life would carry on as it always had. It would seem that things didn't quite work out that way. Solicitors have been struggling to keep up with the pressures of their profession and if lots of chains had closed down, then it would have partly defeated the objective of trying to encourage people to undertake Moving Home journeys.

To keep the property market on its feet, and to carry on the process of home purchases, the Government have chosen to extend the current Stamp Duty Holiday. Property purchases up to £500,000 will continue to stay tax-free until 30th June 2021 and property purchases up to £250,000 will also stay tax-free until September 30th 2021.
Current stamp duty rates
Property Value < £500,000 – no stamp duty
Property Value £500,001 – £925,000 – 5%
Property Value £925,001 – £1,500,000 – 10%
Property Value > £1,500,000 – 12%
Mortgage market update
Now that the market is rising once again and 95% mortgages are going to be making their big return, we're hoping that this is the sign that we needed that normality is not too far ahead. Of course, it will still be a while before things will truly be normal again, but this is a good place to start for the property market. The Government certainly sees the importance of the property sector, one that can surely play a huge part in our economic recovery.

The government are really pushing for people to transition back into buying over renting, which can be seen by their introduction of the new "mortgage guarantee" scheme. Seeing this news as a dedicated Mortgage Broker in Liverpool creates optimism amongst our workforce and others involved in the sector.

We remain open and here to help with all your mortgage & protection needs. Our open & honest team of mortgage advisors in Liverpool are available 7 days a week, so Get in Touch and we'll get the ball rolling on your mortgage journey.
Why use a Mortgage Broker in Liverpool
Today we live in an uncertain economic environment. Yet, in a world full of opportunities, therefore we like to be prepared, and when it comes to our finances, there is one thing we all desire: being well informed.
Are you looking for mortgage advice in Liverpool?
As a group of experts, we believe that there are some excellent reasons to use a mortgage broker in Liverpool, so here we will talk about both methods' positives and negatives so that you can make the best well-informed decision.
We know that there are many mortgages options out there, for example, you can still go directly to the lender, whether via a branch or online. However, we discovered that most people still use a mortgage broker in Liverpool due to the benefits it brings.
Using a Broker instead of a bank
You may not have much experience, but one thing is for sure: We all like to save some money. So, when we think of mortgage advice, one of the options that first comes to mind is to go directly to a Bank or Building Society, so that you won't have to pay a broker fee. However, that option became unattractive when credit scores came in a few years ago, and people started looking for other alternatives.
Mortgage Products Offered by Lenders
Another of the mortgage products on the market are those offered by lenders that are only available directly. This strategy gets implemented to attract a fair business distribution from consumers and brokers alike. By being exclusive, they can turn on and off these products when they deem it necessary, this method often confuses the market and consumers.

However, from 2014 onwards, lenders were no longer allowed to sell mortgages without professional advice. Many consumers felt that non-advisors had been trying to push solid advice on them, and they weren't able to benefit from some of the consumer protection. A benefit that accompanies sales conducted by professionally trained mortgage advisors is why most people still use this service.

Because of this, in late 2014, it was not unusual to have to wait more than a month just for an appointment, and it still happens today. Not the best scenario when you've just had your offer accepted on the house. So, many began to make their applications through mortgage agents, who assure you professionalism and a mortgage service the same day, like ourselves.
Affordability
Another important point when applying for a mortgage is affordability, no matter how good the deal is if it is not enough money. That is why we believe that a broker is a perfect option. With our mortgage advice in Liverpool.

We can assure you of the best deal and our service when you need it, in a professional and personalized way. When you call us, we try and put you through with a qualified mortgage advisor either immediately or at the very least, within the same day (unless requested otherwise).
We Can Handle Difficult Cases
Applying for a mortgage can sometimes be difficult. Each case is unique, and many reasons can complicate an application. Some examples are:
• Poor credit history.
• Self-employed income.
• Mixed source of deposit (savings/gift).
• Let to Buy (keep your current home and buy another).
• Contract workers / zero-hour contracts.
• Affordability.
In previous years, lenders could stand out from the competition by merely offering a similar deal but better than another lender. In modern times this is very different, with lending criteria being what separates one lender from another.

However, as we mentioned before, when we talk about our well-being and finances, we like to be well informed and consult with experts on the subject. Your situation is unique, and what you need is not a better loan than someone else's, but a better one for you and one that suits your situation.
We offer a Free Mortgage Consultation
That's why we think that seeking professional mortgage advice in Liverpool is the best alternative. When you explain your position to an experienced mortgage broker in Liverpool, there is a chance they have come across something a little similar in the past, allowing them to personalize their service and help you through.

With a little luck, professionalism, and much work, your mortgage advisor will be able to recommend the most suitable mortgage for you at the lowest possible rate.

More than that, though, it's not just about getting the mortgage. Even if the application itself is straightforward, our clients trust our experience and knowledge for more than that. For example, we will discuss how much they will offer for the property they are buying.

Our team of mortgage brokers in Liverpool can recommend other professional services such as solicitors and explain the different types of surveys and protection available to them. 
Responsive service
Another significant advantage of using a mortgage broker is that they tend to be much more responsive than lenders might be. It's not been unheard of for our team to work late at night, out of hours, working hard on client cases at full speed to ensure service is prompt, but also efficient. Our team is committed to offering our assistance when you need it and how you need it.

Another point that gets overlooked when looking at why clients may prefer a broker is that everyone is very busy. You may be self-employed in Liverpool, a full-time worker, a working mom and you need a mortgage but do not have time to do it, that is where your advisor can take the burden off for you.

Professional applicants especially see the benefits of these as they have clients of their own to charge for their services and appreciate the benefits of having an expert on board.
Personalized service
Technology is taking over, and the future of the mortgage market is no different. Perhaps in the future, we will see lenders who want to compete with the broker's business. If this happens, they are unlikely to staff-up their branch networks.

Technology is excellent, and it is a service particular for customers who are happy to do business that way, especially for straightforward cases. However, for most people, there is an element of "reality," a "human touch," that you can't get anywhere other than talking to a mortgage counsellor yourself.

The mortgage broker becomes your ally and can provide you with a satisfying experience, a complete service with all the benefits that the client requires and attention that technology cannot offer.

Having said all this, the reasons for hiring a mortgage broker in Liverpool are vast and if you want to ask any questions related to mortgages. Seek or obtain this service from the hand of a professional team adapted to your needs, get in touch, and we'll put you through with a mortgage advisor in Liverpool as soon as possible.
Help to Buy Mortgage Schemes Available in Liverpool
The Basics of a Help to Buy Mortgage
Help to Buy Mortgage Schemes Available in Liverpool
In a bid to kick-start the property market, the Government launched various Help to Buy schemes. In any case, this started after the credit crunch of the mid-2000s.

Most of the schemes undertaken were under the banner of "Help to Buy". They got designed to get people onto the property ladder. Putting these schemes under the title of Help to Buy did cause some confusion, so below well explain how they work.
Forces Help to Buy
The Forces Help to Buy scheme was introduced in 2014 off the back of the Help to Buy Equity Loan scheme. The method undertook a 3-year pilot to determine whether or not it would be worth keeping in place. These first 3 years were successful, so the Government extended the deadline/review date to December 2022.

The scheme got introduced to help regular armed forces personnel get onto the property ladder. If you fit within the scheme's criteria, it could be a great mortgage option for you to consider.

For more Help to Buy Mortgage Advice in Liverpool, get in touch with your Help to Buy Mortgage Advisor in Liverpool today. Receive a free Help to Buy mortgage consultation in Liverpool today.

Here's an insight from Malcolm, who is an experienced Mortgage Advisor in Liverpool and the actual "moneyman" himself:
Mortgage Advice in Liverpool