What are the best places to live in Liverpool?
The best areas to live in Liverpool
This thriving and picturesque city is a perfect place for those looking to buy their first property or considering Moving Home in Liverpool for a change in scenery or a larger property.

With this city offering a variety of locations to live in, we have compiled a list of the best places to live in Liverpool and the surrounding area.
1. Woolton
Situated in the South of Liverpool, Woolton is a leafy village that has both modern and historical properties. This is a perfect area if you are looking for a more rural landscape away from the hustles and bustle of the city centre. For any music fans, Woolton is only a short walk from the iconic Beatles landmark Strawberry Fields as well as the childhood home of John Lennon.

The main hub of Woolton is full of cafes and restaurants which is perfect for going out for dinner with friends and family. Other leisure activities in the area include a historic building that houses the Woolton Picture House which is perfect for a date at the cinema as well as Woolton Golf Club for any budding golfers. The area has a variety of corner shops and supermarkets for your food shopping as well as hairdressers and even dog groomers!

If you are looking to start a family or currently have one, Woolton has plenty of primary schools, secondary schools and even further education facilities. The village is located in the perfect area if you are working in the city of Liverpool and looking for a convenient commute with Woolton being around 17 minutes by train to Liverpool Central and is about a half an hour drive.

There is a large range of properties in the area perfect for both First Time Buyers in Liverpool and those looking to move home in Woolton. If this quaint area sounds like the place for you, get in touch with our team or book online for your free mortgage appointment.
2. Allerton
Allerton is a suburb of Liverpool but was once within the county of Lancashire. With its friendly commuting and overall small-town feel, the suburb is situated only 3 miles to the south of the city centre. Similar to many small villages around Liverpool, Allerton has links to The Beatles with the area being the location of Paul Mccartney's childhood home.

The area caters for a balanced lifestyle with aspects of both suburb and city life in one picturesque landscape. There is plenty of things to do in Allerton such as Clarkes Gardens which is perfect for a stroll in the leafy parts of Allerton as well as plenty of eateries in and around the area which is perfect for family gatherings. For history lovers, Sudles House is a brilliant place to visit with its Victorian architecture and valuable paintings.

The properties within Allerton range from 3-bedroom houses to flats making the area fitting for living in a property on your own to buying a home to start a family in. Being in close proximity to the city of Liverpool opens up plenty of employment opportunities and Allerton has a range of educational facilities along with schools offering both primary and secondary education.

If you feel Allerton is the perfect fit for you and are looking for support in the process of obtaining a mortgage for your dream property in Allerton, get in touch with our team today!
3. Aigburth
Aigburth is a friendly suburb that has a fantastic community spirit with the general goal to provide a welcoming atmosphere to anyone that lives, works and visits the area. With beautiful historic buildings, a thriving social scene and picturesque open spaces, Aigburth is fitting for all ages and lifestyles and is only a short journey to the Liverpool city centre.

Residents and visitors are spoilt with the variety of things to do in Aigburth. For the daily walks, Sefton Park is surrounded by residential houses but is still a fantastic outdoor space and is the home of the Liverpool International Music Festival. History lovers will be attracted to the conspicuous Victorian Mansions that you can see on your travels around this park. If you are looking for the perfect place for a shopping spree, Lark Lane is well known for its plethora of independent and niche shops as well as plenty of eateries.

As mentioned, Aigburth is not far from Liverpool City Centre so is certainly a brilliant place if you are planning to regularly commute there. There are lots of bus and rail services that take you to the city centre in around 15 mins. Alternatively, there are road routes for you to drive into the city and towards the M62 which can take you to different parts of the country. Depending on what your future plans are, there is plenty of employment opportunity in and around the area as well as lots of schools offering many levels of education.

If you are looking at Moving Home in Liverpool or are looking for your first property, Aigburth has a variety of properties on offer for young buyers and families all at a range of prices. Get in touch for open and honest mortgage advice in Liverpool to see how we can help you towards mortgage success.
4. Mossley Hill
Boarded by Aigburth, Allerton, Childwall and Wavertree is Mossley Hill. The residents here are spoilt by a collection of shops, restaurants and picturesque green spaces which provides a range of activities in the area. Situated just four miles from the centre of Liverpool, Mossley Hill is a brilliant area for commuters.

Mossley Hill has an inviting community that is here to support one another which is perfect if you are Moving Home in Liverpool and are new to the area. As mentioned, the area is full of amenities including plenty of supermarkets for your weekly shop as well as plenty of pubs and restaurants. Along with this, the many parks in Mossley Hill are perfect for a walk and exercise.

If you are looking to start a family in the area, there is plenty of primary and secondary schools in and around the area as well as a college and university. Mossley Hill train station is your best for commuting into the city centre which can provide brilliant employment opportunities. Some of the properties in the area unlock a piece of history with a number of Victorian mansions in the area along with apartments, semi-detached and detached housing at varying prices.
5. Childwall
Childwall is a ward of Liverpool and is located south of the city. Home to Lime Pictures, the area has recognisable locations that are seen in the series 'Hollyoaks' as well production of Brookside and Geordie Shore. This suburb is full of history especially surrounding Childwall Abbey and is the home to Liverpool's only remaining medieval church.

This suburb is a short distance to Liverpool city centre which attracts a variety of people with its fantastic shopping, tourist attractions and food facilities. Within Childwall is Croxteth Hall and Country Park which has a picturesque park that is perfect for families as well as Childwall Woods which is a national forest and brilliant for a walk.

Whether you are looking to move into your first property in this thriving area or planning to start a family here and looking for a larger property, Childwall caters for both! With a variety of property options out there along with brilliant commuting options, employment opportunities and schools in and around the area, Childwall could be the place for you.
Why Don't People Overpay their Mortgages in Liverpool?
Unveiled statistics for mortgages and overpayments
Every homeowner, whether a First Time Buyer in Liverpool, Home Mover in Liverpool or going for a Remortgage in Liverpool, should know that overpaying your mortgage can make a significant difference in what you have to pay each month. The earlier you start overpaying, the quicker you can take advantage of it's benefits.

Homeowners may not always be able to afford such an option. Sometimes life gets in the way. In hindsight overpaying is a great thing to start doing, however, we always find something 'better' to spend our money on.
Overpaying your mortgage?
A lot of the time it might just be as simple as remembering to overpay your mortgage. After all, it's not something that immediately comes to mind when buying a home.

So, if you're in this situation and are looking to overpay, what should you do? We'd recommend setting up a standing order that is payable to your lender each month. Have it go out alongside all your other payments, so it's easier to manage.

For example, say your monthly mortgage payment is £450 per month and goes out on the 2nd of each month. You are able to afford an extra £85 per month and are keen to put that towards your mortgage payments. Set up a standing order of £85 to go out to your lender on the 2nd of each month too.

A great benefit here, is your mortgage payments will then total at £535 and because it's going out as a regular payment, this will become a part of your monthly routine.

Another perk is that whereas a direct debit is controlled by the receiver, standing orders are controlled by the payer. Struggling for funds this month and can't afford to overpay? Just cancel the direct debit.

Whilst it would be a shame to have to stop overpaying, you at least have the benefits you've gained so far. Depending on the lender, you may even be allowed to arrange reduced payments or take a "payment holiday" if you've been overpaying over a long period of time. It's important to check with lenders though if you're looking to do this, otherwise it could have an adverse affect on your credit report.

Overpaying is a great habit to have but it's not something you have to do. If you don't feel the need to, you don't have to. That being said, knocking off a year or two from your mortgage term will be something definitely worth the effort.
Mortgage Advice on Overpaying Your Mortgage
What is a 95% Mortgage?
As the name would suggest, a 95% mortgage is where you are borrowing against 95% of the property price, paying the remaining 5% with your deposit. An example of this would be if you wanted to buy a property that was worth £150,000 with a 95% mortgage, your minimum deposit would be £7,500 and you would borrow the remaining £142,500 from the lender.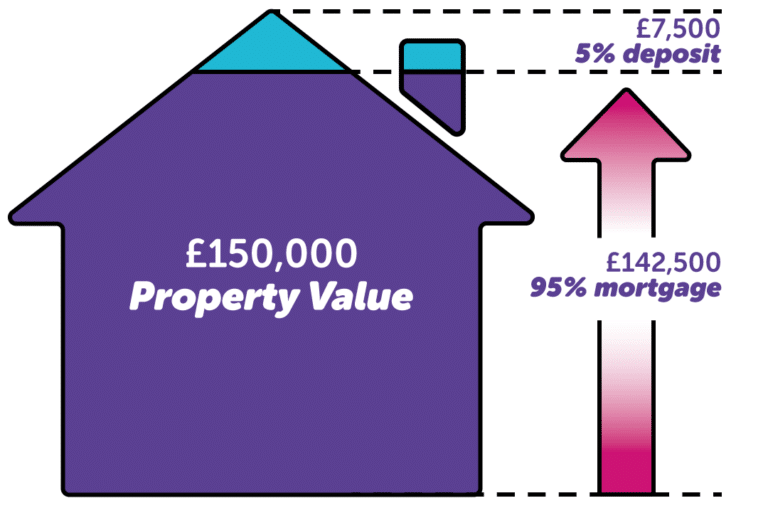 95% Mortgage Advice in Liverpool
Following on from the March 2021 Budget, Prime Minister Boris Johnson announced a Mortgage Guarantee Scheme for mortgage lenders, something that would aim to make 95% mortgages more readily available from the high street banks.

This is very welcome news for First-Time Buyers and Home Movers, as this scheme will remain active until December 2022. Specific terms and conditions will apply, something your Mortgage Advisor in Liverpool will be able to look at with you, to see if you qualify.

All our customers who Get in Touch with us for Mortgage Advice in Liverpool, will receive a free, no-obligation mortgage consultation. Here, one of our dedicated mortgage advisors will be able to make a recommendation on the most appropriate route for you to take.
Can I get a 95% mortgage?
You will find that 95% mortgages are usually accessible by both First-Time Buyers in Liverpool & those who are Moving Home in Liverpool. The concept of saving for a 5% deposit sounds like a pretty straightforward plan of action, but you'll still need to have an acceptable credit score and prove to the lender that you are able to afford your monthly mortgage repayments, before you are considered for a 95% mortgage.
Improving your credit score
You'll need to demonstrate you have a good credit score before you'll be accepted for any mortgage, especially a 95% mortgage. Handy tips for improving this will include paying any current credit commitments on time, ensuring your addresses are updated and checking that you're on the voters roll. For a more detailed look at how and why you can help your credit score, please see our How to Improve Your Credit Score article.
Affordability
Affordability is something else you should also consider. Providing the lender with enough details of your income and monthly outgoings (things like your bank statements will be necessary for this) and any pre-existing credit commitments will allow them to get a general overview of whether or not you are able to afford a 95% mortgage.
Can my family help me get a 95% mortgage?
It's a common occurrence these days to see lots of family members helping one another get onto the property ladder, especially with parents looking to further their children's lives. This normally happens by a family member gifting the person looking to find their home, the deposit required to proceed. Known through the industry as the "Bank of Mum & Dad, Gifted Deposits should only be a gift, and not a loan to be paid back. The lender will need this to be agreed and proven, before it can be used towards your mortgage.
How do I choose the right 95% mortgage?
You always want to make sure you have the right type of mortgage, especially with something like a 95% mortgage. Each type works in its own way, with that choice allowing you to find one that is most appropriate for your personal and financial circumstances.

Some homeowners and buyers would rather go with a Fixed Rate or Tracker Mortgage, mortgage types which mean you either keep interest rates at a set amount or have your interest rates following the Bank of England base rates.

Alternatively, you might be more comfortable with the way Interest-Only or a Repayment Mortgages work. Interest-Only allows cheaper payments until you need to pay a lump sum once it reaches its end (mostly now used for Buy-to-Lets), whereas a Repayment mortgage (a normal mortgage if you'd like) means you'll be paying a combination of both interest and capital per month.

You can read more about each of these mortgage types in our Different Types of Mortgages article, with informative videos for each type.
How can a bigger deposit help with my mortgage?
A mortgage is a hugely important financial outgoing, and as such you need to be prepared. If you aren't prepared, you might find yourself more likely to be affected by things like higher interest rates, remortgaging difficulties due to less equity and then negative equity.

This is not something to worry about though, as these problems can be avoided if you're smart enough with your process initially. The more deposit you put down, the less risk you'll be to the lender.

A larger deposit would not only reduce the interest rates by a noticeable amount, but would also give the property more equity and reduce the risk of negative equity, which will be because you are borrowing less against the property.

So, whilst the risks may seem rather scary at first, planning ahead and saving for a larger deposit to access something like a 90% or even an 85% mortgage will be very beneficial in your mortgage journey and something you'll be able to reap the rewards from in the future.
Why use a Mortgage Broker in Liverpool
Today we live in an uncertain economic environment. Yet, in a world full of opportunities, therefore we like to be prepared, and when it comes to our finances, there is one thing we all desire: being well informed.
Are you looking for mortgage advice in Liverpool?
As a group of experts, we believe that there are some excellent reasons to use a mortgage broker in Liverpool, so here we will talk about both methods' positives and negatives so that you can make the best well-informed decision.
We know that there are many mortgages options out there, for example, you can still go directly to the lender, whether via a branch or online. However, we discovered that most people still use a mortgage broker in Liverpool due to the benefits it brings.
Using a Broker instead of a bank
You may not have much experience, but one thing is for sure: We all like to save some money. So, when we think of mortgage advice, one of the options that first comes to mind is to go directly to a Bank or Building Society, so that you won't have to pay a broker fee. However, that option became unattractive when credit scores came in a few years ago, and people started looking for other alternatives.
Mortgage Products Offered by Lenders
Another of the mortgage products on the market are those offered by lenders that are only available directly. This strategy gets implemented to attract a fair business distribution from consumers and brokers alike. By being exclusive, they can turn on and off these products when they deem it necessary, this method often confuses the market and consumers.

However, from 2014 onwards, lenders were no longer allowed to sell mortgages without professional advice. Many consumers felt that non-advisors had been trying to push solid advice on them, and they weren't able to benefit from some of the consumer protection. A benefit that accompanies sales conducted by professionally trained mortgage advisors is why most people still use this service.

Because of this, in late 2014, it was not unusual to have to wait more than a month just for an appointment, and it still happens today. Not the best scenario when you've just had your offer accepted on the house. So, many began to make their applications through mortgage agents, who assure you professionalism and a mortgage service the same day, like ourselves.
Affordability
Another important point when applying for a mortgage is affordability, no matter how good the deal is if it is not enough money. That is why we believe that a broker is a perfect option. With our mortgage advice in Liverpool.

We can assure you of the best deal and our service when you need it, in a professional and personalized way. When you call us, we try and put you through with a qualified mortgage advisor either immediately or at the very least, within the same day (unless requested otherwise).
We Can Handle Difficult Cases
Applying for a mortgage can sometimes be difficult. Each case is unique, and many reasons can complicate an application. Some examples are:
• Poor credit history.
• Self-employed income.
• Mixed source of deposit (savings/gift).
• Let to Buy (keep your current home and buy another).
• Contract workers / zero-hour contracts.
• Affordability.
In previous years, lenders could stand out from the competition by merely offering a similar deal but better than another lender. In modern times this is very different, with lending criteria being what separates one lender from another.

However, as we mentioned before, when we talk about our well-being and finances, we like to be well informed and consult with experts on the subject. Your situation is unique, and what you need is not a better loan than someone else's, but a better one for you and one that suits your situation.
We offer a Free Mortgage Consultation
That's why we think that seeking professional mortgage advice in Liverpool is the best alternative. When you explain your position to an experienced mortgage broker in Liverpool, there is a chance they have come across something a little similar in the past, allowing them to personalize their service and help you through.

With a little luck, professionalism, and much work, your mortgage advisor will be able to recommend the most suitable mortgage for you at the lowest possible rate.

More than that, though, it's not just about getting the mortgage. Even if the application itself is straightforward, our clients trust our experience and knowledge for more than that. For example, we will discuss how much they will offer for the property they are buying.

Our team of mortgage brokers in Liverpool can recommend other professional services such as solicitors and explain the different types of surveys and protection available to them. 
Responsive service
Another significant advantage of using a mortgage broker is that they tend to be much more responsive than lenders might be. It's not been unheard of for our team to work late at night, out of hours, working hard on client cases at full speed to ensure service is prompt, but also efficient. Our team is committed to offering our assistance when you need it and how you need it.

Another point that gets overlooked when looking at why clients may prefer a broker is that everyone is very busy. You may be self-employed in Liverpool, a full-time worker, a working mom and you need a mortgage but do not have time to do it, that is where your advisor can take the burden off for you.

Professional applicants especially see the benefits of these as they have clients of their own to charge for their services and appreciate the benefits of having an expert on board.
Personalized service
Technology is taking over, and the future of the mortgage market is no different. Perhaps in the future, we will see lenders who want to compete with the broker's business. If this happens, they are unlikely to staff-up their branch networks.

Technology is excellent, and it is a service particular for customers who are happy to do business that way, especially for straightforward cases. However, for most people, there is an element of "reality," a "human touch," that you can't get anywhere other than talking to a mortgage counsellor yourself.

The mortgage broker becomes your ally and can provide you with a satisfying experience, a complete service with all the benefits that the client requires and attention that technology cannot offer.

Having said all this, the reasons for hiring a mortgage broker in Liverpool are vast and if you want to ask any questions related to mortgages. Seek or obtain this service from the hand of a professional team adapted to your needs, get in touch, and we'll put you through with a mortgage advisor in Liverpool as soon as possible.
Do I Have to use my Estate Agent's in-house Mortgage Advisor in Liverpool?
Estate Agent Mortgage Advice in Liverpool
Before you start your mortgage process, you should consider all of your options. Usually, customers are eager to get the whole thing over with as fast as possible. The most common mistake that customers make is rushing straight to a large estate agent and taking their in-house advice. We advise against this; in all honestly, you can get just as good and if not better advice elsewhere!

If you are a First Time Buyer in Liverpool, we strongly advise that you do your research and look around for external Mortgage Advisors in Liverpool that are more suited for your circumstances. On the other hand, if you do end up using in-house advisors, we have created a list of some sale tactics that estate agents use that you might find useful…
Sales tactics of estate agents
When you use your estate agent's in-house Mortgage Advisor in Liverpool and their conveyancer, think about this… where has the money come from? The estate agents could be charging you extra on top of your other fees.

When you use a Mortgage Broker in Liverpool, you will get each and every cost broken down for you so that you can see exactly how your money has been spent. If you are unsure about anything whatsoever, it's easy to ask and your question will be answered honestly. This is the personal touch of a Mortgage Broker in Liverpool.

On the rare occasion (as it's illegal), estate agents may hold back your mortgage application just because you have used another financial advisor over theirs. For example, you could submit your application through a broker and then they could receive another application through their in-house system but then they could hold yours back to process their application first. Despite submitting your application first, you could end up being backlogged, even if your purchase is worth more than the other application! Remember to note that this is illegal.

If the estate agent is really trying their luck, they may try and charge you over the top in-house conveyancing fees. Even if your purchase is nice and straightforward, they could try and get an extra £1,500+ out of you for no reason. If this happens during your process, you should ask for a breakdown of where these extra costs are coming from.
There are plenty of other ways you can arrange a mortgage without using the estate agent. In this article we'll cover the ways in which you can do so, helping you decide on who to use for your mortgage and getting the most out of your money.

How can I arrange a mortgage in Liverpool?
Do it yourself online
If you would rather take matters into your own hands and get behind the wheel, you should know that it's perfectly okay to do that! Everything that your advisor would arrange for you can be done online. Of course, you would be missing out on getting advice from a specialist, however, you would be avoiding the fee for getting the advice in the first place.

By using price comparison websites, you could end up finding yourself a great deal. You may also end up saving money down the line providing that you end up finding the right deal that suits your situation. Once you have your deal, you could end up getting through the process very quickly.

Here are some things to be aware of when switching your mortgage deal online:
Check that you match the criteria for the "Best Buy" rates before you apply for them. If you are declined, it could leave a negative print on your credit file.
Make sure that you have researched what sort of mortgage you are looking for and the differences between them.
If you pick the wrong mortgage deal it can be costly to get this changed. So be careful of valuation and application fees before selecting a deal with minimum research. You should know that these fees will be non-refundable and it will be hard to switch deals without a big cost even if you find a better one.
If you choose to go at it on your own, you must know that you are responsible for progressing your application to endpoint and you will have to resolve any issues that you come across on your own.

Using your bank's in-house Mortgage Advisor in Liverpool
Yes, it can be easy to make an appointment with your in-house advisor, however, is it your best option? Here are some things to take note of if you choose your in-house advisor:
Your in-house advisor will not search around for the best deal, they are restricted to their products and their products only. They are also under no obligation to tell you about cheaper deals elsewhere.
You can swoop up a mortgage appointment in no time, although, their waiting lists can sometimes go up to 6 months.
Your bank may not have advisors that specialise in specific mortgage areas. This could be a problem if you are in the middle of a sticky mortgage scenario and need specialist help.

Using a Mortgage Broker in Liverpool
Sometimes opting to use a Mortgage Broker in Liverpool, especially if you've been declined by your bank or are looking to access competitive mortgage rates. A Mortgage Broker has the potential to help you find a great deal, provide a personal service and get things completed quickly.

A Mortgage Broker in Liverpool will charge you for their services, however, they usually offer a free mortgage consultation up until the point where you send off your application.

At Liverpoolmoneyman Mortgage Brokers, we work solely for you and everything is kept strictly between us. We are also not tied to any estate agents, so we are free to access thousands of mortgage deals, it's just the case of finding the right one for you!

Whether you are a First Time Buyer, Moving Home or looking to Remortgage in Liverpool, you will find our Mortgage Advice service extremely beneficial. As a trusted Mortgage Broker in Liverpool, we will guide you through the home buying process, giving good, honest and unbiased mortgage advice. Get in touch for a free mortgage consultation and we'll see how we're able to help you.

Mortgage Advice in Liverpool
How To Make An Offer On A Property in Liverpool?
How to make an offer on a property?
When you are at the point of being ready to make an offer on a property, it's important that you put your circumstances across to the seller or estate agent in such a way that gives you the best chance of having your offer accepted. Whether you are a First Time Buyer or Moving Home in Liverpool, it's always key that you know how to make an offer on a property.

A cash buyer will always have the advantage, though if you have a mortgage agreement in principle in place you will definitely be in a better position than other potential buyers who have yet to get in touch with a Mortgage Broker in Liverpool and get this sorted.

Buying a property is a negotiation process, and so if the seller rejects your initial offer you will be asked whether you want to increase your offer. So don't be afraid to offer less in the first instance than you are willing to pay for the property you're interested in.

If your increased offer is also rejected sometimes it just boils down to whether you are willing to pay the asking price, especially if the property in question has just been placed on the market, or whether you are prepared to walk away and find another property to live in.

As part of our dedicated mortgage advice service, we offer you a free initial mortgage consultation. So, please feel free to give us a call if you want to speak to an expert Mortgage Advisor in Liverpool. They will try their best to attend to all of your mortgage needs.
Mortgage Advice in Liverpool
Product Transfer V Remortgage Mortgage Advice In Liverpool
What is product transfer?
When your initial mortgage deal reaches the end of it's term, your mortgage lender may offer you a new deal to stay with them. This process is known as a product transfer.
Are you rewarded for being loyal?
Unfortunately, lenders do not always reward customers for their loyalty over the years, and the offer they make may not be as competitive as deals you could have access to if you go elsewhere. They are more likely to reward a First Time Buyer in Liverpool than they are someone looking to Remortgage in Liverpool.
Tempted by an online switch?
Whilst the concept of swapping to a new deal with your current lender may seem like an easy process online, it is always in your interest to see what other deals you may have access to. Lenders will also try to tempt you towards a new deal without actually taking mortgage advice.

This can be really dangerous because if you undertake this process without professional mortgage advice you are waving goodbye to all the valuable consumer protection you would otherwise have benefitted from by speaking with a Mortgage Advisor in Liverpool.
You'll be opting out of advice
We have seen many examples of customers affecting these "follow-on" deals and locking themselves into a deal that doesn't benefit them and isn't appropriate to their personal circumstances. Because you opted out of advice, you then give up your right to making a complaint if you don't like something.

We had a case in the past where a customer who was pregnant did this and was declined for a small further advance to fund some necessary home improvements down the line. She then had to pay a large early repayment charge to swap to a new lender who would grant her further funding.
Always, get mortgage advice in Liverpool
If we think a product transfer is the most suitable deal for you we will recommend that as a course of action for you and if we arrange the mortgage for you as a Mortgage Broker in Liverpool then all the regulation and consumer protection will apply.

A second opinion costs nothing, and making a mistake when taking a new product can be costly. We will do our best to ensure you take the right path with your mortgage.

The Remortgage Market in Liverpool is highly competitive and savings can generally be made by searching the market for a new deal.
Agreements in Principle: Hard & Soft Credit Searches
An Agreement in Principle (also referred to as an AIP), is a piece of documentation you are given once you pass the lenders credit score. You will need one of these if you wish to qualify for a mortgage. Having an Agreement in Principle allows you to make an offer on a property you are interested in, as well as assisting when you want to negotiate on price, as it shows the seller you're serious about your offer as a First Time Buyer in Liverpool.
What effect does an AIP have on your credit score?
The effects of an Agreement in Principle on your credit score, completely depend on whether the lender takes a hard credit search or a soft credit search. What are the differences between these? Below we'll answer this.

Hard credit searches:

Hard searches are more in-depth than soft searches. The main difference between hard and soft searches is that hard searches leave a footprint, which can negatively affect your credit score if you fail it too many times. If you have a good credit score however, you shouldn't need to worry going into this as a First Time Buyer in Liverpool.

Soft credit searches:

The option you're more likely to come across these days is that a lenders soft search. These are to hard searches, what a lite phone model is to the main release, usually requiring less information and in the majority cases leaving your credit score unaffected, even in the event of not passing.
Does an AIP guarantee me a mortgage in Liverpool?
Although an Agreement in Principle can be a massive help, it doesn't always guarantee that you will successfully obtain a mortgage. The lender will still need you to provide them with documents in order for the underwriter to make their final decision.

You can usually find small print included on Agreements in Principle that may easily be missed. We find in some cases, when customers reach out for help about their Agreement in Principle, they've been turned away at full mortgage application stage.

The documents you will be required to provide can include; personal ID, payslips, bank statements and things of that ilk. As your dedicated Mortgage Broker in Liverpool, we take pride in helping our customers, whether Moving Home in Liverpool or Self Employed in Liverpool, get prepared for a mortgage.
Is my AIP a necessity when making an offer?
You may be able to get away with this, however, most credible estate agents will want evidence that you are able to proceed with the purchase in question.
How long will my AIP last For?
Your Agreement in Principle will usually need renewing after around 30-90 days, though this isn't something you should worry about. The main reason we recommend getting one so early is to avoid being told the property you're interested in is no longer available for purchase.

Getting your Agreement in Principle sorted also means you don't just need to jump in and buy the first house you see. It's a fairly easy process, so if it expires, we can quite easily help you get another one.
Mortgage Broker in Liverpool
How to get a Mortgage Agreement in Principle in Liverpool
What is a mortgage agreement in principle?
The purpose of a mortgage agreement in principle (AIP) document is to prove that you do have a mortgage in place. To the estate agent, it proves you have good enough credit to proceed, as you have passed the lenders credit scoring system. That being said, getting a mortgage can never be guaranteed, as a full application will still require further background checks.
The value of a mortgage agreement in principle
Now you have your mortgage agreement in principle, what do you do with it? Well, having your mortgage agreed at the outset can help you negotiate on asking price with the owner of the property. It is relatively easy to obtain and is something we can arrange for all of our clients. Almost all lenders offer an Agreement in Principle.

To proceed further with a mortgage application, you will require further background checks to cover things like evidence of income, as well as a satisfactory valuation of the property itself.

Getting one in advance can really put you in a better position for negotiating, can help you avoid disappointment and allows you to figure out your limits.
Negotiating power with a mortgage agreement in principle
When you reach the point of being ready to make a formal offer on a new home, the majority of estate agents will undertake due diligence and ask you to prove that you can in fact afford to complete the purchase. Sufficient evidence of this include bank statements and also an agreement in principle certificate, which our team can provide for you. Once you have provided them with all this documentation, the estate agent will usually cease marketing the property and put a "sold" or "sale agreed" board up to let people know a deal is currently being processed.

If you already have a mortgage agreed before you make an offer, you are instantly more appealing to a seller as this proves you are not making this choice lightly and you've thought about how you're going to afford the purchase. This might persuade a seller to accept an offer you put forward on their property that may be underneath their initial asking price.
Avoid disappointment with a mortgage agreement in principle
When it comes to buying a house some customers go full steam ahead and make an offer on a property without first checking that they have the means to proceed with the purchase. This can understandably leave people feeling very disappointed if this doesn't quite work out how they'd hoped.

By that point they may have already got their heart set on their new potential family home. By getting in touch with us early on, this disappointment can be avoided. Sometimes there are things that are causing a mortgage to decline that can be overcome over time.

For example, there may be a small issue on your credit report that is proving to be a nuisance, perhaps a disputed mobile phone bill which can be easily fixed. Maybe you thought you were on the voters roll and you're not, something that over time can be solved. In any case, it's better than you know ahead of time, rather than mess people about. Our team will be able to tell you what you need to do to improve your credit score for the future.
Knowing your limits with a mortgage agreement in principle
Ok, so you know you've got a good credit rating because you've never been turned down for credit, you're registered on the voters roll and you've always made your credit card payments on time – so what can go wrong?

Well, you could approach 10 different lenders these days and get 10 different maximum mortgage amounts! They all calculate affordability in their own unique ways. If you're self-employed it really is a minefield: some lenders take your net profit, others your salary and divided. Some use your latest year, others an average over 3 years.

Knowing your borrowing limits is important as then you know for sure what your price range is. We'll be able to advise you of the maximum mortgage available to you. Also, more importantly, together we'll work out how much you can afford to pay back each month.
Mortgage Advice in Liverpool
Different Types Of Mortgages Explained
The Different Types of Mortgage Available in Liverpool
At the start of your mortgage process, you will soon realise that there are many different options available. If you are First Time Buyer in Liverpool, you are probably thinking "How could there be so many different types of mortgage?"

In this article we will provide a list of the most popular types of mortgages available on the market and hopefully answer any questions you have about them.
What is a fixed-rate mortgage?
A fixed-rate mortgage means that your mortgage payments are not going to change for the length of your term. You are able to choose the length of this yourself, with common choices being 2, 3 or 5 years or longer. Regardless of what happens to inflation, interest rates or the economy, you have the security of knowing that your mortgage, likely your biggest outgoing payment each month, will remain the same.
What is a tracker mortgage?
A tracker mortgage means that your interest rate will track the base rate set by the Bank of England. What this means is, the lender that you are with does not actually choose the rate that will be applied, and you will be paying a percentage above the Bank of England base rate. In an example, if the base rate is 1% and you are tracking at 1% above base rate, you will be paying a rate of 2%.
What is a repayment mortgage?
When you take out a repayment mortgage this means that each month you are paying back a combination of both interest and capital. Providing that you keep your payments going for the full length of the mortgage term, you are almost guaranteed to have fully paid off the mortgage by the end of your term, resulting in the property becoming solely yours.

This is probably the most risk-free way to pay your capital back to the lender. Early on into your mortgage term, it is mainly the interest that you are paying and your balance will go down at a rather slow rate, especially if you have taken out a 25, 30 or 35-year term. The benefits of this arise in the last ten years or so of your mortgage, where your payments are covering more capital than interest and the balance will go down at a much quicker pace.
What is an interest-only mortgage?
Whilst many Buy to Let Mortgages are set up on an interest-only basis, it is much harder task to get a residential property on that same basis.

The likelihood for lenders to offer an interest-only product now is a lot less than it was. That being said, there are certain circumstances where this can be a viable option, including things like downsizing later on in life, or having other investments what you will use to pay the capital back. Lenders have stricter rules when it comes to offering these products now and the loan to values are a lot lower than they used to be.
What is an offset mortgage?
With an offset mortgage, the lender will set you up a savings account to work alongside your mortgage account. How this works is that, for example, if you have a mortgage balance of £100,000 and £20,000 is deposited into your savings account, you would only be paying interest on the difference, which in this case would be £80,000. This can be a much more efficient way of managing your money, especially if you pay a higher rate of tax.
Mortgage Broker in Liverpool